Meet Sinead Brennan at Coalesce
At Coalesce we are customer focused and maintain the highest quality service for our clients who range from Charities to Government, large Corporate bodies, start-ups and SMEs. It's important that we find the best people to join our growing team.
Meet Sinead Brennan
- Operations Support Executive and the newest member of Coalesce
What do you do at Coalesce?
My role here at Coalesce as Operations Support Executive, is to be the first point of contact for the client and to provide exceptional customer service to them before and after all events. I work alongside the team to ensure the smooth running of the company and booking management systems. I'm a huge part of the clients journey and love being a part of this, providing support to all clients and business partners.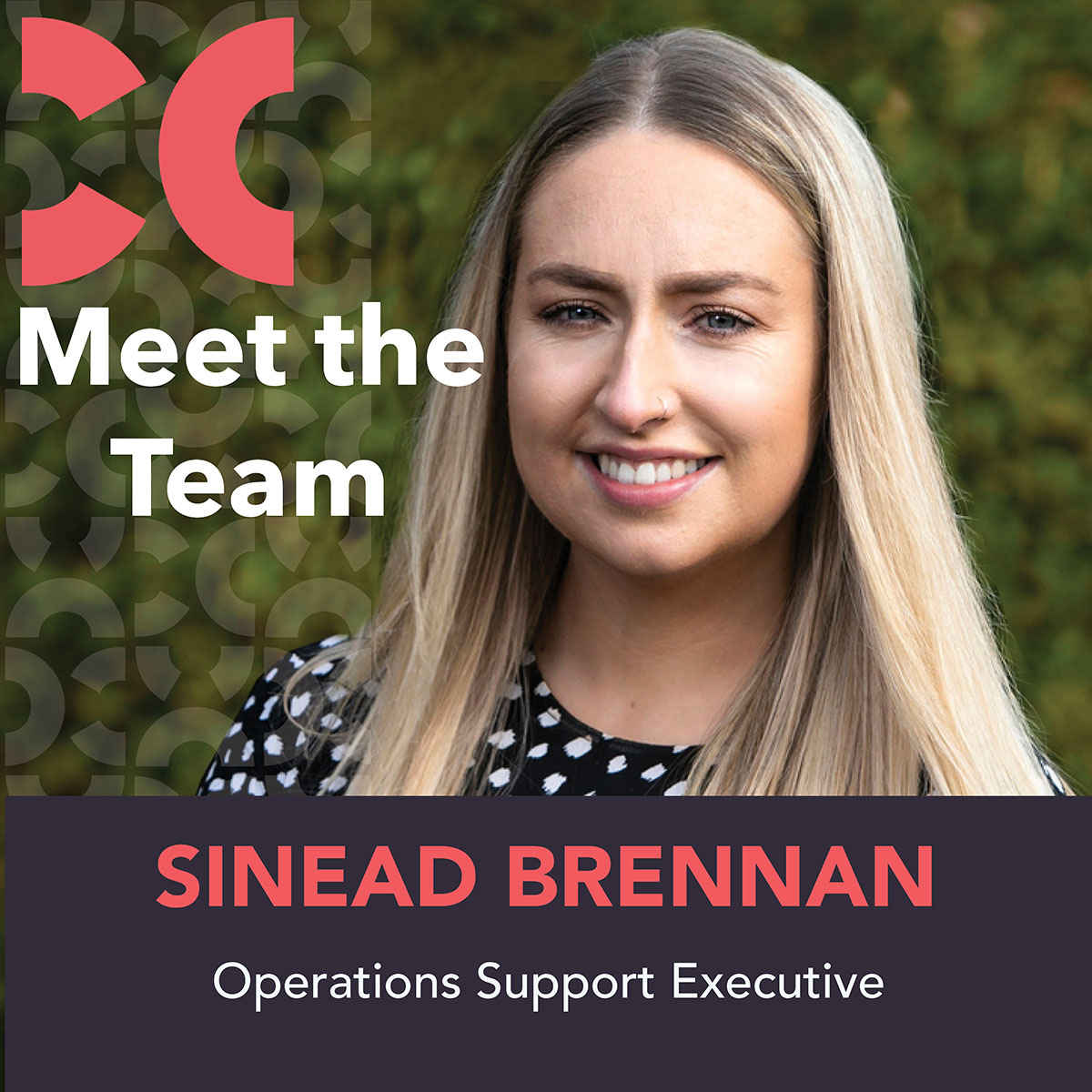 Tell us a bit about yourself and your career history.
My name is Sinead and I'm 27 years old with many years of experience in client facing customer service and experience environments. I have worked in the hospitality industry for nine years. During this time I gained a lot of experience working operationally in an office based environment.

I worked for many years with Carton House gaining operational experience working on events of all sizes. Working in this fast paced role and very closely with clients, the focus was on building relationships along the way.

I then moved on to work in The Camden Court Hotel as an events executive which was an office based role. This gave me a huge insight into clients journeys from start to finish and this is something I loved being a part of.

After a year, a role came up in Press Up Entertainment group that I could not turn down. I worked with Press Up for just under 4 years as Sales and Events manager. As part of the company expansion, I was a part of nearly 30 projects and openings across the group. It was great to take part in the expansion of the company and work closely with management and team members.

The experience was busy, fast paced and a role that was both operational and office based. I built and fostered relationships with clients and brought them on exceptional journeys. I loved being the first point of contact for a client and ensuring a memorable experience when liaising with them for bookings.

I love working in a client facing customer service role, that's what I do best!
Why did you join Coalesce?
When I saw the job post online I was instantly excited about the role. Coalesce is a leading collaborative photography and videography company, who provide the highest of customer service to their clients and support their creative peers. I love working with a close knit team and have been really interested in learning more about the photography and videography world.


Working in events I have always been around videographers and photographers. I would have been involved in booking these services on behalf of clients. Being so creative is a gift and the work they do is incredible. I felt I could bring a lot to the team based on my experience working in a booking management, client facing & highly customer service focused roles in the past.
What is the best part of being part of Coalesce so far?
Getting to meet the team and get more of an insight into the companies daily workload has been amazing. I think what Orla and Shane have created is amazing for all photographers and videographers. The systems used are so well set up and have made my on boarding role very straightforward.

To be ISO registered is a great achievement and I am looking forward to working alongside the team to continue to maintain the highest quality of service for our clients. I have really enjoyed working really closely with Orla during my training and learning all duties required from me to complete this role to the highest possible standard. I am excited to learn more daily and be apart of the team!
What do you think are the most important aspects in a customer facing role?
Outstanding customer experience is the most important aspect in a customer facing role. To me this means going above and beyond what is needed for the customer by ensuring you are a trustworthy point of contact to resolve any queries or questions that arise. To provide an outstanding customer experience you need to be efficient, available, positive , easy to talk to, reactive, reliable and approachable. Customer satisfaction is so important, and ensuring the customer is happy at all times gains and grows relationships and ensures the customer feels comfortable to approach you in the future.
Podcasts/book recommendations?
The Good Glow by Georgie Crawford
The Laughs of your life by Doireann Garrihy